Ghost Tours of The Music Hall (10/15 - 10/29/19)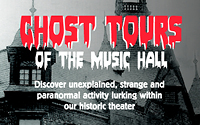 Presented by The Music Hall
Unexplained happenings and paranormal activity have been experienced at our 134-year-old historic theater. Lights mysteriously turning back on after closing. The eerie sound of an unknown singer performing vocal scales in the wings after hours. High profile artists refusing to stay in one particular dressing room because they "sensed a presence." Who or what could be the cause? Join us for a special "balcony to backstage" guided ghost tour to learn more about what we've discovered about the secrets of our theater, its intriguing history and the ghostly guests who still linger… if you dare.
Tickets: $25 - Please arrive 15 minutes before scheduled tour time - No late entry will be permitted

The 45-minute tour kicks off in the theater lobby and does include climbing stairs and extended periods of standing.