SHIFF Special Event: D23's "Disney's Hollow-een Treat" - 70th Anniversary "The Legend of Sleepy Hollow" and more! (10/13/19)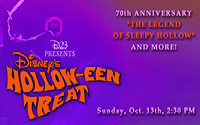 Presented by D23 and Sleepy Hollow International Film Festival
With a hip, hip, and clippity-clop, D23 the official Disney Fan Club "heads" to Sleepy Hollow, New York! Celebrate the 70th anniversary of Disney's classic THE LEGEND OF SLEEPY HOLLOW as the town of Sleepy Hollow itself celebrates the 200th Anniversary of Washington Irving's original frightening fairy tale!
As part of the 1st Annual Sleepy Hollow Film Festival, DISNEY'S HOLLOW-EEN TREAT comes exclusively to the Music Hall! In this special presentation, Walt Disney Archives Director Becky Cline and voice actor Bret Iwan will "treat" the audience to a special selection of Disney's spookiest shorts before a screening of THE LEGEND OF SLEEPY HOLLOW, complete with a behind-the-scenes look at each film.
VIP PLATINUM PASS and GOLD PASS
purchases include this show, along with ALL the film festival's Music Hall events, and provide seating ahead of individual ticket purchases.