Westchester Circus Arts & The Music Hall Academy Presents: Circus Ta-Da! (9/29/19)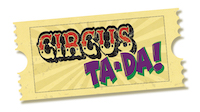 Presented by The Music Hall & Westchester Circus Arts
Announcing TA-DA!, a totally immersive circus experience for children of all ages that combines the traditional energy and excitement of a traveling circus show with historical information about the evolution of the circus in the United States. By removing the traditional barriers between audience and performers, Circus goers will become part of the performance from the moment they step foot on The Midway. The Ringmaster, Mr.Amazing takes the audience through an exciting journey in the circus ring filled with acrobatics, aerial acts, juggling, clowning, and more. The rich history of the traveling circus in America will become the narrative structure of TA-DA! and introduces new generations to (and remind older ones) the world of magic and delight that can only be found under the Big Top.