Film: Volkswagen Presents Warren Miller's "Timeless" (11/21/19)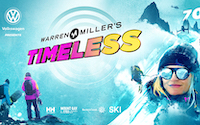 Presented by
Warren Miller
The only constant is change, but winter stoke is eternal. After seven decades of celebrating skiing and snowboarding,
Warren Miller
Entertainment can confirm that nothing compares to the anticipation of another season. Join the kickoff to winter with our 70th film, Timeless, presented by Volkswagen,featuring ski legends like Glen Plake, alongside newcomers like Catie Zeliff, Jaelin Kauf and Baker Boyd. Shot on location in British Columbia, France, Austria, Switzerland, Colorado and Jackson Hole. Attendees will receive lift ticket discounts, free swag and more. Timeless is more than a ski and snowboard film, it's an experience.
Year after year, generations of ski and snowboard enthusiasts look forward to the coming of winter, and even after seven decades of ski cinematography, Warren Miller Entertainment can confirm that the joys of winter are eternal.
Kickoff winter with Warren Miller Entertainment's 70th film, Timeless, presented by Volkswagen. Timeless features a cast of fresh faces, including Olympic mogul skier Jaelin Kauf and Canadian World Cup ski racer Erin Mielzynski, alongside industry veterans Glen Plake, Rob DesLauries, and Marcus Caston.
Explore the enduring spirit of the season across the globe, from the slopes of the Colorado Rockies to the rooftop of the Alps, and the steeps of the Monashee Mountains at Mustang Powder Lodge to Mike Wiegele's Heliskiing out of Blue River, British Columbia.
All moviegoers will receive discounts on lift tickets, gear, swag, and more. Carry on the tradition! Find a show coming near you this fall at
WarrenMiller.com
.
Tickets go on sale for Premium Members on 9/23 at 9:00 AM EST, Members on 9/24 at 9:00 AM EST and for Non-Members on Friday, September 27, 2019 at 9:00 AM EST