Jim Breuer: Live and Let Laugh (11/16/19)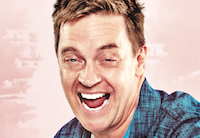 Presented by Jamison Communications
Jim Breuer has been a comedy superstar since SNL and the movie "Half Baked." He's enjoyed highly rated comedy specials on Comedy Central and Amazon and appeared on TV's "Kevin Can Wait" and the films "Zookeeper" and "Beer League." Jim's bringing his new tour to the Music Hall offering his comedic perspective and insights on the day-to-day insanity of our world. He feels everyone needs to laugh and be uplifted. So join him on this laugh-filled trip and see why Comedy Central voted him one of the greatest stand-ups of all time.
$160 Jim Breuer VIP Experience
Package includes:
One premium reserved seat
Preshow Meet & Greet with Jim Breuer
Individual photo with Jim Breuer
Signed Jim Breuer tour poster
VIP commemorative laminate