SHIFF Live Stage Event! NEVERMORE: An Evening with Edgar Allan Poe (10/12/19)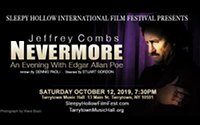 Presented by Sleepy Hollow International Film Festival
Renowned actor Jeffrey Combs (RE-ANIMATOR, STAR TREK DEEP SPACE NINE, THE FRIGHTENERS) performs his acclaimed one man show, transporting the audience back to 1848 where Combs, as Edgar Allan Poe, enthralls with dramatic recitals of some of the legendary author's great works, all the while laying bare his tortured, impassioned soul. Combs' astonishing portrayal of Poe has been hailed by The L.A. Times as "A landmark performance," as NEVERMORE has delighted audiences across North America, with critically heralded shows in Los Angeles, Montreal, Baltimore and NY's Lincoln Center. Now comes the rare chance to witness NEVERMORE in what may be its most historic location and venue yet!
Directed by Stuart Gordon and written by Dennis Paoli. Children under 13 not admitted.
VIP PLATINUM PASS and GOLD PASS
purchases include this show, along with ALL the film festival's Music Hall events, and provide seating ahead of individual ticket purchases.