An Amazin' Evening of Myth & Baseball with the World Champion '69 New York Mets (9/21/19)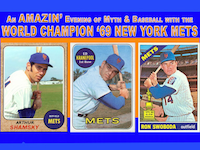 A Music Hall/Music Without Borders Co-presentation
Part of The Engaging Conversations Series, Sponsored by Mercy College and Dan Bucci of Coldwell Banker
Take a trip down memory lane with Mets legends Art Shamsky, Ed Kranepool & Ron Swoboda, as they commemorate the 50th Anniversary of their unlikely, astonishing 1969 miracle campaign, when the New York Mets defeated the Baltimore Orioles to claim the World Series Championship in just their eighth season as a Major League Baseball franchise. The Mets legends will share stories from their incredible season and take questions from the audience. The 1969 New York Mets season is regarded by baseball historians & enthusiasts as 'The Greatest Season Ever'. The previously, remarkably terrible franchise defied every prognostication (and several laws of physics) to surmount impossible odds in a historic year when Neil Armstrong also walked on the moon, & half a million music fans gathered for Woodstock, and while the War in Vietnam offered stark realities on the evening news.


$155 VIP Seats include an autographed baseball, Post show Meet & Greet + photo with the players