The Laurie Berkner Band Holiday Celebration (12/7/19)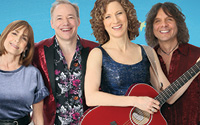 Tickets go on sale for Premium Members on 6/17 at 10:00 AM EST, Members on 6/18 at 10:00 AM EST and for Non-Members on Friday, June 21, 2019 at 10:00 AM EST
Presented by Metropolitan Entertainment
Playing all your favorites plus songs from the new CD
A Laurie Berkner Christmas!
One of America's most beloved children's music artists.
Laurie Berkner
has an amazing ability to create music that is loved by both children and parents. She is a regular on Nick Jr.'s "Jack's Big Music Show" and her live shows are legendary. Her most famous songs include "We Are The Dinosaurs," I'm Gonna Catch You" & "Bumblebee."
• There are 50 Premium $100 Seats available for each show, these include a post-show meet & greet.

• Lap babies under the age of 1 are free with comp tickets supplied by box office day of show

• Tickets go on sale for Premium Members on 6/17 at 10:00 AM EST, Members on 6/18 at 10:00 AM EST and for Non-Members on Friday, June 21, 2019 at 10:00 AM EST