Arrival From Sweden: The Music Of ABBA (7/6/19)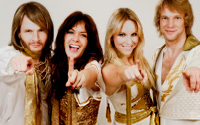 A Music Hall Presentation
Arrival From Sweden is one of the most popular ABBA show bands on the planet, having sold out venues and arenas in over 60 countries. The production features fabulous costumes, top notch singers and musicians performing all your favorite ABBA hits like "Dancing Queen", "Mamma Mia", "Take A Chance On Me", "Waterloo", "Gimme, Gimme, Gimme" and "SOS". The group was also given a previously unreleased ABBA song to perform, "Just A Notion". This show is the closest you will ever get to experience ABBA live!