Troubadours: The Music of Carole King & James Taylor featuring Home Again & Sweet Baby James (6/1/19)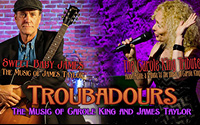 A Music Hall/Music Without Borders Co-presentation
Two tributes, one night! An incredible evening featuring the music of Carole King & James Taylor. Home Again leaves no stone unturned, covering the entire repertoire of the multi-award winning singer/songwriter Carole King, performed by Deb De Lucca & an incredible band. Included on the list are songs Carole wrote & recorded on her own as well as songs she wrote that were recorded by other musicians. She made her mark with ˜Tapestry" in 1971 but was already a well established songwriter for over a decade starting with her first hit in 1960 "Will You Love Me Tomorrow" recorded by the Shirelles. Other well-known hits from Carole include "Pleasant Valley Sunday" by The Monkees, "Take Good Care of My Baby" by Bobby Vee, "Up on the Roof" by The Drifters & many more old favorites. Sam Hayman's Sweet Baby James is a masterful tribute to the music of James Taylor. Sam's uncanny resemblance to James, and his astonishing capture of Taylor's vocal and guitar styles leaves audiences feeling like they've just seen and heard the legend himself and applauding for more!