Jake Shimabukuro (6/14/19)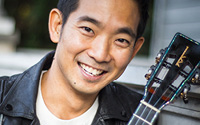 A Music Hall/Music Without Borders Co-presentation
We are thrilled to welcome arguably the best contemporary ukulele player in the world back to the Music Hall.
Jake Shimabukuro
combines classic ukulele styles with various other genres ranging from pop, rock, and jazz to metal and has become noted for his solo uke arrangements of such varied pieces as the George Harrison song "While My Guitar Gently Weeps," Queen's "Bohemian Rhapsody," Schubert's "Ave Maria" and Leonard Cohen's "Hallelujah." Shimabukuro's records have topped the Billboard World Music Charts on numerous occasions, and as a live performer he's played with world-renowned orchestras and at prestigious venues such as the Hollywood Bowl, Lincoln Center and the Sydney Opera House.
He has dazzled audiences at music festivals including Bonnaroo, SXSW, the Playboy Jazz Festival and Fuji Rock Festival. He even performed for that rarest of audiences: Her Majesty Queen Elizabeth II. Not too shabby for a humble young man from Hawaii and his trusty ukulele. Even with the constant demands on his time – Shimabukuro tours roughly half the year and makes frequent appearances on media outlets such as The Today Show, Good Morning America, Jimmy Kimmel Live!, Late Night with Conan O'Brien, A Prairie Home Companion and NPR's Morning Edition – Shimabukuro's album output hasn't slowed. In 2016, he recorded the all-original Nashville Sessions at Music City's famed Ronnie's Place studio with producer R.S. Field (Steve Earle, Webb Wilder) and the ace rhythm section of bassist Nolan Verner and drummer Evan Hutchings. And now he's returned to the same city and studio – and with the same gang, too (augmented by guitarist Dave Preston) – for his newest record, The Greatest Day.