Lard Dog & The Band of Shy (4/6/19)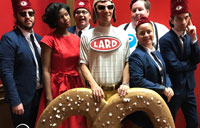 Presented by
The Music Hall Academy
Lard Dog & The Band of Shy
burst onto the New York entertainment scene in 2015 with an off-Broadway theatre run called, "Life's A Real Dream". With their quirky lyrics and infectious tunes the band has drawn comparisons to Devo, Rocky Horror Picture Show, Pee Wee Herman, and the B52's. Lard Dog has longstanding roots in New York, performing everywhere from CBGB's Gallery and Fez Under Time Café to Joe's Pub and Symphony Space. In 2017, the band landed the #1 chart-topping song on Sirius XM Kids Place Live "13 under 13 Countdown" with the single, "I Like."
Preshow Songwriting Workshop with Lard Dog!

Why do some songs get stuck in your head and you can't stop humming them? What does it take to make a #1 hit song? Join Lard Dog (aka Steven Erdman), Honey Rae Rae (Sharaé Moultrie), and Schwington Boogie, Musical Director (aka Jeremy Beck) for an interactive workshop on songwriting! We'll use our #1 hit song "I LIKE" to learn about song structure, instrumentation, vocal arrangements, and live performance! We'll get input from volunteers (participation encouraged but no one will be pressured to participate) and with a little imagination, we'll craft a new song of our own. Come play along and slurp the noodle of life!*

Ages: 5-12
Time: 11am
Cost: $25
*Workshop tickets do not include tickets to the 1pm show.