Story Pirates (5/19/19)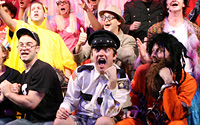 Presented by
The Music Hall Academy
The creators of the #1 podcast for kids hit the stage, in a hilarious musical comedy variety show, based on stories written by actual kids! Sing along to hits from our album, Nothing Is Impossible, while you discover shocking facts, like horses can play the guitar, and rhinos are magic. Watch in amazement as the cast takes suggestions from the audience and performs a brand new story--complete with costumes and music--right on the spot. Cheer on a pair of local elementary school student authors as we surprise them from the stage, making the big announcement that the next story we perform is a world premiere, written by... YOU! This highly interactive, colorful, and one-of-a-kind show, featuring two original stories by kids from your area, sparks the imaginations of kids and adults alike, inspiring everyone in the family to start telling their own stories.
The Story Pirates
have thrilled thousands of kids and grown-ups, one story at a time. You're next!
The Story Pirates believe that every child has a story to tell. This critically acclaimed media organization, founded in 2004, has headquarters in New York and Los Angeles, and produces an array of original projects based on collaborations between kids and world-class artists. The group is made up of renowned comedians, musicians, authors, designers and teachers who use kids' own words, and ideas as the source material for everything they do. Adding professional polish, the Pirates bring to life on stage, on screen, in books and albums, and through their popular podcast, what young minds scribble down on paper. By inviting kids into the creative process, the Story Pirates offer a participatory new approach to kids' media that's fresh and engaging, not to mention hilarious.

Story Pirates is also proud to be a leading advocate for arts education. Through Story Pirates Changemakers, their partner non-profit, the Pirates provide life-changing literacy and creative writing programs to thousands of kids around the country, including those in Title I schools and homeless shelters.

Pre-Show Group Story Writing & Storytelling workshop:
Ages 6-10


Kids everywhere are invited to submit their own story ideas. Learn more at storypirates.com and via Twitter @storypirates, Instagram @storypirates, and Facebook.com/storypirates.