The Vagina Monologues (2/13/19)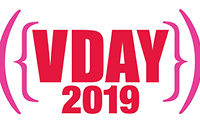 Presented by V-Day Tarrytown/Sleepy Hollow 2019
20 years since Eve Ensler's play The Vagina Monologues shattered taboos, the stakes could not be higher. V-Day is a movement that grew out of the untold stories of women. We believe women. We believe in their right to tell their stories and we believe their stories need to be heard - nothing is more powerful. At the local level, we unite to tell those stories in solidarity with those cis, trans, and gender non-conforming who experience domestic violence, with the belief that one day soon, this violence will end.
CLICK HERE TO VIEW TONIGHT'S PROGRAM!
The V-Day Tarrytown/Sleepy Hollow 2019 production of The Vagina Monologues is raising funds for Hope's Door and My Sisters' Place. These Westchester-based not for profit organizations are on the front line of ending violence in intimate relationships.
Click here to make a donation to V-Day Tarrytown and Sleepy Hollow

Together we can end violence against all women and girls - cisgender, transgender, and those who hold fluid identities that are subject to gender based violence.