Arlo Guthrie - "Alice's Restaurant" Back by Popular Demand Tour (6/9/19)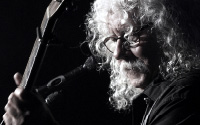 A Music Hall/Music Without Borders Co-presentation
When legendary folk music icon Arlo Guthrie took to the road to celebrate the 50th Anniversary of his seminal song "Alice's Restaurant Massacree," he was incredibly moved by the feedback from enthusiastic fans. Alice's Restaurant -- Back By Popular Demand Tour will coincide with the 50th Anniversary of the feature film "Alice's Restaurant," originally released in 1969, starring Arlo as himself, directed by famed director Arthur Penn. It was filmed in the Berkshires, Arlo's own backyard, recreating some of the events that launched the Massacree, while adding a good dose of fiction. Ultimately, the movie garnered a "Best Director" Oscar Award nomination for Penn. Of the film, Roger Ebert had said, "It is also good to have Arlo Guthrie himself, who is quiet and open and good on camera... "Alice's Restaurant" ...becomes a synthesis of Arlo's spirit and Arthur Penn's tact." "Alice's Restaurant" was Arlo's first foray into acting, and he would later take roles in several television series.Currently on the road for the last year presenting the Re:Generation Tour, Arlo along with his son Abe will be joined onstage on the forthcoming tour with longtime collaborators Terry "A La Berry" Hall (drums), Steve Ide (guitar, vocals) and Carol Ide (vocals, percussion) of his former acclaimed band Shenandoah. Arlo's daughter Sarah Lee Guthrie, a lauded singer-songwriter in her own right, will open the shows.