Bobby Collins (1/4/19)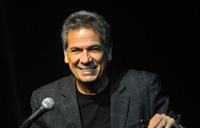 Presented by The Music Hall
Comedian Bobby Collins has an ability to truthfully translate the human condition. Audiences across the country relate to his comedic characterizations as he exposes the humor of day-to-day situations as well as serving up resplendent rants on world events. Through precise physical timing and impeccable audience insight, he has honed his talents while performing from hole in the wall clubs to sold out theaters. Bobby was nominated for a Grammy , performed at The White House , performed on all three Tonight Shows with Johnny , Jay and Jimmy. A native New Yorker, Collins possesses a confidence and genuine everyman likability that can only be earned.