$5 Film: Elf (12/12/18)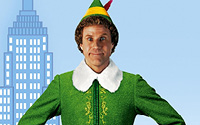 Presented By The Music Hall Volunteer Movie Comittee
Fun movie for the family! After inadvertently wreaking havoc on the elf community due to his ungainly size, a man raised as an elf at the North Pole is sent to the U.S. in search of his true identity. Starring: Will Ferrell, James Caan, Ed Asner, Bob Newhart, Mary Steenburgen, Zooey Deschanel. Director: Jon Favreau.
Runtime: 97 Minutes
Rating: PG