$5 Film: It's A Wonderful Life (12/23/18)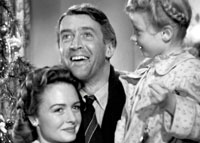 Presented By The Music Hall Volunteer Movie Comittee
A Holiday family classic that needs no introduction! The heartwarming story of how George Bailey finds the true Christmas Spirit with the help of another friendly spirit. Starring James Stewart, Donna Reed, Lionel Barrymore, Henry Travers. Director Frank Capra.
Runtime: 118 Minutes
Rating: G