Natalie Merchant and Lúnasa (3/16/19)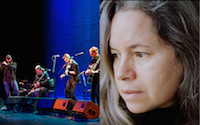 A Music Hall/Music Without Borders Co-presentation, supported by
WFUV
Natalie Merchant will perform a set of her own songs accompanied by Erik Della Penna on guitar and then after an intermission, she'll join Lúnasa as a special guest on six songs during their set.
Natalie Merchant
recently joined her friends in
Lúnasa
as a "special guest" for four shows in their native Ireland in August following her own UK Tour. We are lucky to welcome them all to the States in this very special performance! Lúnasa is currently on tour celebrating the band's 20th Anniversary. Their new album Cas is available now via the band's online store. Natalie makes an appearance on the track "The Bonny Light Horseman." Natalie and Lúnasa first collaborated on her 2010 release Leave Your Sleep. Lúnasa is composed of Kevin Crawford (flutes, low whistles and tin whistles), Trevor Hutchinson (double bass), Ed Boyd (guitar), Seán Smyth (fiddle and low whistle) and Cillian Vallely (uilleann pipes and low whistles). Lúnasa have sold more than quarter of a million albums in the course of the band's career and boast an impressive back catalogue of 7 highly acclaimed and award-winning studio albums.