New Years Eve with Nick Di Paolo (12/31/18)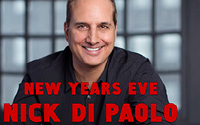 Ticket prices:
$30 through 12/24/2018
$40 through 12/30/2018
$50 day of show
Presented by Stand Up Global
This New Years Eve unwind with Nick Di Paolo and guests for a night of unfiltered, unapologetic, stand-up comedy (yes, that means adult language). Nick will tell it like it is with no concern for political correctness or hurt feelings. And by the time the show ends at 10pm, you'll be hurting with laughter, but will still have time to make it home before the ball drops. It's going to be a great way to celebrate New Years!

In this day of watered down comedy Nick Di Paolo's brutally honest performances remind us of what great stand up should be - funny, socially relevant and a little bit reckless.

Nick has performed on The Tonight Show, Late Night with David Letterman, Jimmy Kimmel Live, and Conan O' Brien. He was twice nominated for an Emmy for his writing on HBO's The Chris Rock Show. He has also had three half hour standup specials on Comedy Central, a Showtime Special "Raw Nerve", a self released special "Another Senseless Killing" and most recently "Inflammatory". He was one of the stars on Tough Crowd with Colin Quinn and a stand out on many Comedy Central Roasts.