The Wallflowers (11/29)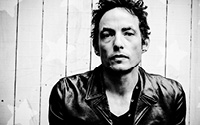 A Music Hall/Music Without Borders Co-presentation
Special Guest: Ragged Glory
The Grammy winning roots/rock group fronted by Jakob Dylan returns to the Music Hall! Though he is the son of a legend, Jakob's similarities to his father are occasional -- in fact, The Wallflowers are more influenced by Tom Petty & the Heartbreakers than original '60s folk-rock, though lyrically, Jakob remains a close companion to the original Dylan. Bringing Down the Horse was a big seller throughout 1997, thanks to "6th Avenue Heartache," "One Headlight," and "The Difference," the third single pulled from the record. Early in 1998, "One Headlight" won Grammys for Best Rock Song and Best Rock Performance by a Duo or Group With Vocal. The band has remained active throughout the years, releasing a number of critically acclaimed albums.