The Hungry Caterpillar & Other Eric Carle Favorites (1/26/19)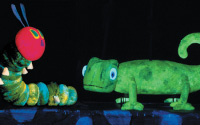 A Music Hall/Music Without Borders Co-presentation
Mermaid Theater of Nova Scotia
Three beloved stories by Eric Carle, award-winning children's book illustrator and author, are retold on stage through the magic of black light and fanciful puppets. The Very Hungry Caterpillar follows the wonderful adventures of a very tiny and very hungry caterpillar as he eats his way through an amazing variety of foods on his path to becoming a beautiful butterfly. High up in the sky, Little Cloud playfully transforms himself into various creatures, including a sheep, and an airplane, a shark and more. The Mixed-Up Chameleon is bored with his life, sitting about predictably changing colour all day. Following an adventurous trip to the zoo, he attempts to emulate the beautiful animals he sees before coming to the conclusion that there is value in his own unique self.

The Music Hall Academy Presents
The Very Hungry Caterpillar pre-show puppet excitement workshop!
Join us before the show at 9:30am with Jill Liflander of Jilly Puppets, metamorphosis puppet dancer extraordinaire, will lead your children through a series of interactive artistic activities before the Music Hall show! Beginning with reading The Very Hungry Caterpillar together, we will then explore Butterfly Hand Dancing, Full Caterpillar to Butterfly Metamorphosis (funky) Movement, and Exploring Black Light Puppetry, where students will create their own black light drawing and hands-on learn about the art and science of black light puppetry.
This very special workshop will take place in the upstairs studio space and is limited to 15 kids. Parents can join us in the lounge (located in the next room) for some light snacks.
Follow Jilly Puppets on
instagram
or
facebook
!
***Workshop tickets do not include show tickets.