Terrapin & Soulshine - Celebrating the Grateful Dead & Allman Brothers (11/24)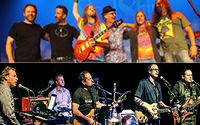 A Music Hall/Music Without Borders Co-presentation
A jam-filled evening celebrating two of the most iconic rock acts in music history. Terrapin is the ultimate Grateful Dead experience bringing a raw and emotional interpretation to one of the best-known and beloved catalogs of music anywhere. Having performed over 160 shows all around the Tri-State Area, Terrapin plays the songs that Deadheads have loved and listened to for decades. The band plays some of the most complex songs in the Grateful Dead's repertoire with the energy found only in some of the most well known Dead shows. The jams are incredibly adventurous making each performance reach new plateaus of another time and space. Together the members of Terrapin enlighten and entertain both the true Deadhead as well as the newly acquainted listener. Soulshine is incredible group of seasoned New York musicians united with the sole purpose of bringing you an authentic Allman Brothers Band experience.