A Motown Christmas (12/8)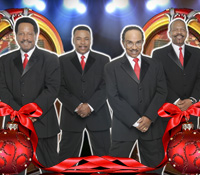 Presented by Praia Entertainment
The music and the magic of A Motown Christmas come to Tarrytown just in time to get you into the holiday spirit! We've taken the concept of a Motown concert to a whole new level. The Motortown All-Stars feature an all-star line-up of vocalists and musicians assembled from the ranks of the Capitols and the Miracles and former members of the Temptations. These vocalists have each performed with Motown legends on stages around the world and now they've come together to deliver all the biggest Motown hits, complete with impeccable harmonies, flashy outfits and that dazzling choreography. A live band of the finest players out of Detroit (complete with live brass) adds yet another level of excitement to those instantly-recognizable grooves. You'll hear all the Temptations, Four Tops, Vandellas, Jackson Five, Stevie Wonder and Supremes' hits you know and love like "My Girl", "Ain't Too Proud to Beg", "Ooh Baby, Baby", "Signed, Sealed, Delivered" as well as holiday classics like "Santa Claus is Coming to Town" and "Silent Night" performed in that inimitable Motown style.
So, "Get Ready"... It's the most wonderful time of the year and this will be the All-Stars' only area appearance this holiday season.