The Weight Band Performs The Band's "Music From Big Pink" (12/15/18)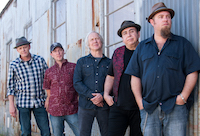 A Music Hall/Music Without Borders Co-presentation, supported by WFUV
We are thrilled to commemorate the 50th anniversary of The Band's "Music From Big Pink", Named #34 of Rolling Stone Magazine's top 500 albums of All Time. Performed by The Weight Band who originated in 2013 inside the famed Woodstock, New York barn of Levon Helm when Jim Weider and Randy Ciarlante — both former members of The Band — performed "Songs of The Band" with Band founder, Garth Hudson, alongside Jimmy Vivino and Byron Isaacs. Inspired to carry on the legacy of the unforgettable rock group, Weider, Ciarlante and Isaacs began performing fan favorites from The Band catalog to audiences across the country, inviting Brian Mitchell to complete their sound. The Weight Band later added Albert Rogers , Michael Bram and Matt Zeiner to make up their current lineup.