Westchester Wednesday Dance with Ballet des Amériques (6/26/19) CANCELED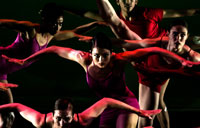 Presented by Ballet des Ameriques
French-American choreographer Carole Alexis and her Ballet des Amériques dance company bring a rich and sprawling repertoire to the Tarrytown Music Hall in a new series called Westchester Wednesday Dance. These weekday evenings of dance offer audiences a break in the workday routine and a chance to witness the original work of the Music Hall's company in residence. Treat yourself to a Wednesday night of vibrant culture!
A student of Maurice Béjart, Alexis' choreography is rooted in classical ballet training and tradition while drawing on influences as disparate as children's games, island rituals, natural phenomena, and modern urban life. Her dances entice and charm the viewer with elements of humor, psychological insight and surprise. Her company's extensive and eclectic repertoire bears her distinctive signature and vision, reinvigorating "ballet" for new audiences and dance connoisseurs alike.

For the third performance of the series, on Wednesday, April 24, Ballet des Amériques will present Of Flowers and Tears, Boléro and Lentil Soup.