$5 Film: Smokey & The Bandit (8/29)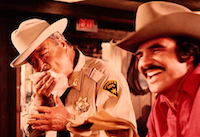 Presented by The Music Hall Volunteer Movie Committee
"Bandit" and a buddy are hired to run a tractor trailer full of beer over state lines, in hot pursuit by a pesky sheriff and his son, a spurned bridegroom whose hitchhiking fiancée the truckers unwittingly picked up.

Runtime: 96 minutes
Rating: PG

Starring: Burt Reynolds, Sally Field, Jerry Reed, Paul Williams. Director: Hal Needham.