Los Lobos & Funky Feat (Feat. Original Members of Little Feat) (10/20)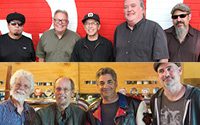 A Music Hall/Music Without Borders Co-presentation, supported by
WFUV

Sponsored by
NewYork-Presbyterian Hospital
An evening of rock n' roll featuring two of the most celebrated bands of our time. Since 1974, East L.A.'s
Los Lobos
have been exploring the artistic and commercial possibilities of American biculturalism, moving back and forth between their Chicano roots and their love of American rock & roll. Although the band first gained fame as part of the early-Eighties roots-rock revival, they didn't so much strip music down as mix it up, playing norteño, blues, country, Tex-Mex, ballads, folk, and rock. While often cited as one of the great bands of Latino Rock, Los Lobos' eclectic sound in fact defined them as a vital example of America's cultural melting pot.
Three original members of Little Feat
Paul Barrere (guitar, vocals), Fred Tackett (guitar) and Kenny Gradney (bass) are joined by long time Feat drummer Gabe Ford for a raucous evening of all the Little Feat hits like "Dixie Chicken," "Willin'," "Down On The Farm," "Feats Don't Fail Me Now" and so much more.