Sal "the Voice" Valentinetti & Comedian Fred Rubino "A Night of Music & Marinara" (11/3)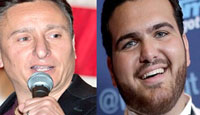 Special guest: Debbie Bazza
Sal Valentinetti is an Italian-American crooner from Long Island, New York. From starting out delivering pizzas, to appearing on reality TV, to selling out shows across the country – Sal's career continues to grow. Born August 26, 1995, Sal was influenced early on by his grandmother to love the musical genius of the classic crooner sounds of Dean Martin, Tony Bennett, and Frank Sinatra. Freddy Rubino was born on the lower east side of Manhattan in New York City and then moved to Brooklyn. It is here where Fred developed, at an early age, the basis for his comedy material and the humor and hilarity of growing up Italian and in Brooklyn!