Stars of the Sixties (10/5)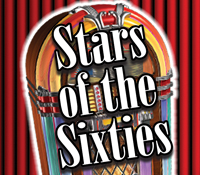 Tickets go on sale for Music Hall Members on 7/3 at 12:00 PM EST and for Non-Members on Friday, July 6, 2018 at 12:00 PM EST.
Presented by Praia Entertainment Group/Pop, Rock & Doo Wopp Live!
The stars of the 60s return to Tarrytown Music Hall with 2 major headliners! Starring… Jay & the Americans ("This Magic Moment", "Come a Little Bit Closer", "Walkin' in the Rain", "Only in America", "Cara Mia"). Plus - for the first time in many years - The Brooklyn Bridge ("Worst That Could Happen", "Welcome Me Love", "Blessed is the Rain"), back by popular demand - The Vogues ("You're the One", "Turn Around, Look at Me", "5 o'Clock World", "My Special Angel") and The Chiffons ("One Fine Day", "He's So Fine", "Sweet Talkin' Guy"). The original recording artists who created the soundtrack of your lives, featuring 7 original members amongst these 4 legendary acts. Join us for this fun one-night-only reunion of some of the biggest hit-makers of the 60s!