Renaissance - Day of the Dreamer (11/18)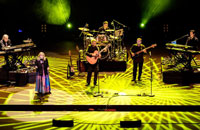 A Music Hall/Music Without Borders Co-presentation
Renaissance is a band with a rich history unique unto themselves as progressive rock pioneers who rose from the ashes of the seminal UK rock band, The Yardbirds. Their career has spanned forty plus years spearheaded by the 5 octave voice of Annie Haslam and the masterful songwriting skills of Michael Dunford.The band also featured John Tout on piano, Jon Camp on bass and Terry Sullivan on drums, all of who further molded the sound of the band through the powerful technical command of their instruments. They were first acknowledged for uniquely blending progressive rock with classical influences and symphonic arrangements. The current personnel of Renaissance include: Annie Haslam lead vocals, Rave Tesar keyboards, Leo Traversa bass guitar, Geoffrey Langley keyboards, Frank Pagano drums and Mark Lambert on acoustic guitars.