Film: Sharknado (6/19)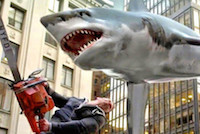 Presented by The Music Hall Volunteer Movie Committee
The Film Series is also made possible with a generous support from New York State Council on the Arts.
Shark Night at the Music Hall! Pre-party starts at 6pm - photo booth, raffle, beer tasting, and snacks! When a freak hurricane swamps Los Angeles, nature's deadliest killer rules sea, land, and air as thousands of sharks terrorize the waterlogged populace. Impossible? Crazy? Who cares, it's a tornado with teeth!
Originally a TV movie, starring: Ian Ziering, Tara Reid, John Heard. Director: Anthony C. Ferrante.

Film Runtime: 86 min
Rated: TV-14