David Bromberg Big Band with Special Guest Tom Rush (9/15)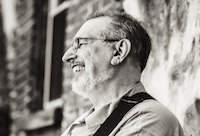 A Music Hall/Music Without Borders Co-presentation, supported by
WFUV
An evening with two of the most celebrated artists of the Americana tradition.
David Bromberg
's incredible journey spans five-and-a-half decades, and includes – but is not limited to – adventures with Bob Dylan, George Harrison, Jerry Garcia, and music and life lessons from seminal blues guitarist Reverend Gary Davis, who claimed the young Bromberg as a son. A musician's musician, Bromberg's mastery of several stringed instruments (guitar, fiddle, Dobro, mandolin), and multiple styles is legendary, leading Dr. John to declare him an American icon.
Tom Rush
's impact on the American music scene has been profound. He helped shape the folk revival in the '60s and the renaissance of the '80s and '90s, his music having left its stamp on generations of artists. James Taylor, Emmylou Harris, Tom Petty and Garth Brooks have cited Tom as major influences. His early recordings introduced the world to the work of Joni Mitchell, Jackson Browne, and James Taylor.