Motorcycle Film Series: The Wild One (5/15)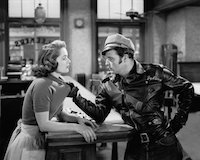 Presented by The Music Hall Volunteer Movie Committee
Sponsored by Empire Harley
The Film Series is also made possible with a generous support from New York State Council on the Arts.
Pre-show special at The Set Back Inn right down the road, 33 Main Street, Tarrytown. Show your movie ticket at the bar for a $3.00 pint!
The Black Rebels Motorcycle Club gate-crashes a legitimate motorcycle race. They are eventually thrown out, but one of the gang steals the second prize trophy and gives it to their leader, Johnny. The gang then ride into Wrightsville, where they race up and down the main street before piling into Bleekers - the local bar. Johnny falls for the sheriff's daughter and tries to impress her with the trophy. When a rival gang, The Beetles, ride into town, trouble is just around the corner.
Starring: Marlon Brando, Mary Murphy, Robert Keith. Directed by Laslo Benedek.

Runtime: 79 minutes
Rating: NR