The Kingston Trio Legacy Tour (11/9)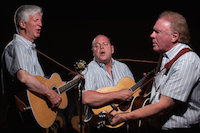 A Music Hall/Music Without Borders Co-presentation
Special appreciation to NewYork-Presbyterian Hospital for their generous support
The Kingston Trio was one of the most influential bands to emerge from the 1950's, only to be outdone by the BEATLES. With talent and tenacity, they rose to become the undisputed kings of an acoustic musical genre that exploded onto the American scene, and still exists today! They were never actually folksingers but more a musical and vocal group that performed a variety of styles. Audiences worldwide agreed. Recently, the Kingston Trio received the "Grand Grammy" of all Grammys: The Lifetime Achievement Award. Continuing the legacy of the iconic group, Josh Reynolds, son of original founding member Nick Reynolds, has joined forces with two of Nick's closest kindred spirits, Mike Marvin, Nick's nephew and Tim Gorelangton, Mike's musical brother. Alongside Josh, Mike & Tim have re-captured that original Kingston Trio magic with their energy, humor and crowd charming musical repertoire.