The Elvis & Orbison Show (11/10)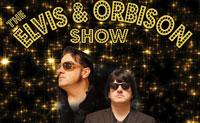 Presented by Galaxy Entertainment
The Elvis & Orbison Show is a unique and incredible tribute concert experience. A true celebration of two legendary performers in one amazing show. In the first set, the portrayal of Roy Orbison is extraordinary. The look, the voice and the phenomenal songs all come to life right in front of your ears and eyes - Oh Pretty Woman, Only The Lonely, Crying, In Dreams, It's Over, Dream Baby, Blue Angel to name a few.
In the second set, Elvis Presley is back in the building as the celebration continues. Jailhouse Rock, Burnin' Love, Hound Dog, Suspicious Minds, Love Me Tender and many more of Elvis' great tunes are brought back to life as the audience is transformed back to a time when Elvis ruled the musical world in an outstanding tribute to the King of Rock & Roll.

"An amazing concert...two great shows in one." - Lubbock Avalanche - Journal

"An incredible portrayal of two rock & roll legends." - Miami Herald