Free Event! West Point Concert Band (4/18)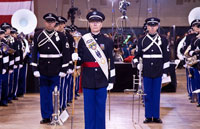 Comprised of graduates from America's finest music schools, the professional musicians of the Concert Band provide world-class music and support to educate, train, and inspire the Corps of Cadets and to serve as ambassadors of the United States Military Academy and the Army to local, national, and international communities. The band's storied history features performances for U.S. Presidents, Heads of State, foreign dignitaries. The band continues to be invited to participate in high-profile events in the New York Metropolitan Area at locations such as Yankee Stadium, MetLife Stadium, and the Statue of Liberty.
To reserve your free tickets, click on the buy tickets link.