Joe Jackson (7/6)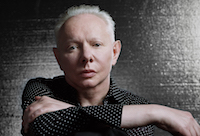 Sponsored by:
A Music Hall/Music Without Borders Co-presentation
Sponsored by
Webster Bank
The Grammy nominated, critically acclaimed pop & new wave artist hits the road for a career spanning tour.
Joe Jackson
's first hit in the U.S. was "Is She Really Going Out With Him?" in the twilight of the 1970s, and his biggest biggest-charting hit in the U.S. was "Stepping Out," which reached No. 6 in 1982. His most recent album Fast Forward was released in 2015 to critical acclaim. Composed, produced and arranged by Jackson, Fast Forward features four sets of four songs each recorded in four different cities – New York, New Orleans, Berlin and Amsterdam – each with a different set of guest musicians. The New York sessions feature Brian Blade, Bill Frisell, Regina Carter, and Graham Maby; the Amsterdam sessions feature the Concertgebouw Orchestra, Stefan Kurger and Stefan Schmid from Zuco 103, as well as Mitchel Sink from the cast of Matilda; the Berlin sessions feature Greg Cohen and Earl Harvin; and the New Orleans sessions feature a horn section led by Donald Harrison in addition to three members of the funk band Galactic: Stanton Moore, Robert Mercurio, and Jeff Raines.