Old 97's (6/30)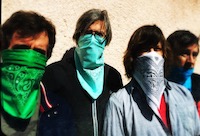 A Music Hall/Music Without Borders Co-presentation
Special Guest: Anthony D'Amato
One of the pioneers of the alt-country movement, Old 97's tour behind their newest release Graveyard Whistling, a release filled with raucous energy, deceptive cleverness, and knockabout spirit. In 1996, Old 97's recorded Too Far to Care. It was their major-label debut—following two independent releases and a year-long bidding war, the Dallas-based quartet had signed with Elektra Records. But rather than venture into some state-of-the-art studio in New York or LA, the band decamped to Village Productions in Tornillo, Texas, a remote facility in the middle of two thousand acres of pecan trees near the Mexican border, with a mixing board acquired from an engineer who had worked on some of Queen's albums. Now over twenty years later, they have returned to record their eleventh studio album, Graveyard Whistling. "[Too Far To Care] is the sound that best defined us," says Rhett Miller, the lead singer and primary songwriter. "It was a really magical time, and we go back to it a lot in our collective memory." And so when it came time for the band—which still consists of the same four members: Miller, guitarist Ken Bethea, bassist Murry Hammond, and drummer Philip Peeples—to record their newest endeavor, producer Vance Powell brought up the idea of returning to Tornillo. "We knew instantly that it was the perfect move," says Miller. "We weren't trying to remake Too Far to Care, but to make something where fans would say, 'This band hasn't lost a step in twenty-some years.'" The result is the eleven songs of Graveyard Whistling.