The Machine performs Pink Floyd 30th Anniversary (6/9)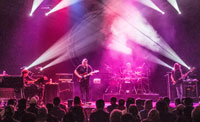 A Music Hall Presentation
3 Albums - 1 Incredible Night! America's favorite Pink Floyd Experience has been wowing audiences around the world for three decades now, and to celebrate they are offering a real special treat to Music Hall patrons. Three classic albums, performed live in full: Dark Side Of The Moon, Wish You Were Here, & Animals! For lovers of Pink Floyd, it doesn't get much better than this, see you at the show!