My Mother's Italian, My Father's Jewish & I'm in Therapy (5/5)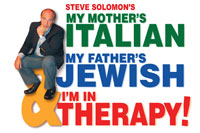 Presented by Praia Entertainment Group, the producers of "Pop, Rock & Doo Wopp Live!"
"My Mother's Italian, My Father's Jewish & I'm in Therapy", one of the longest-running one-man comedy shows in Broadway history comes to Tarrytown Music Hall, starring the original Broadway star, Steve Solomon! The show just celebrated its four thousandth performance, but this will be the international hit's first time at our historic theater. Steve Solomon's two-time award winning show has met with rave reviews and great audience acclaim throughout the country, featuring characters that we're all too familiar with - the family members that make you remember why you left home in the first place. It's a laugh-filled fest of everybody you know, have known, and some you'd want to forget but can't, all brought to life on stage by the comic magic of Steve Solomon.
Variety says, "Steve is Alan King, Billy Crystal, a smidgen of Don Rickles and George Carlin all thrown in." The New York Post hailed Steve's "perfect comic timing" and CBS called it, "A funny look at family relationships. An entire family wrapped into a one-man show." During the show's two-year run in New York City, it developed a tremendous legion of fans including several show biz luminaries, including Regis Philbin and Martha Stewart. Don't miss this evening of hilarious comedy at its very best.