$5 Film: King Kong (2/20)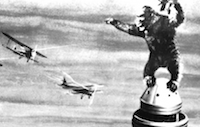 Presented by The Music Hall Volunteer Movie Committee
The original "great ape" action-adventure film! A film crew travels to tropical "Skull Island" for an exotic location shoot and discovers a colossal ape who takes a shine to their female blonde star. He is then captured and brought back to New York City for public exhibition, whereupon "chaos ensues." Pre-film Fun! Be sure to join us at 6PM for a seasonal beer tasting, King Kong photo-ops, a Raffle with prizes, and more!


Runtime: 100 minutes
Rating: NR

Starring: Fay Wray, Robert Armstrong, Bruce Cabot, and King Kong as himself.