Arlo Guthrie: The Re-Generation Tour (5/13)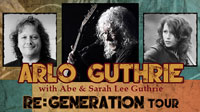 A Music Hall/Music Without Borders Co-presentation, supported by WFUV
Special appreciation to New York Presbyterian Hospital for their generous support
Iconic folk singer Arlo Guthrie and his children Abe and Sarah Lee perform the music of three generations of Guthries in this celebration of an iconic American music-making family. Arlo Guthrie was born with a guitar in one hand and a harmonica in the other, in Coney Island, Brooklyn, New York in 1947. He is the eldest son of America's most beloved singer/writer/philosopher Woody Guthrie and Marjorie Mazia Guthrie, a professional dancer with the Martha Graham Company and founder of The Committee to Combat Huntington's Disease. Arlo Guthrie's career exploded in 1967 with the release of "Alice's Restaurant", whose title song premiered at the Newport Folk Festival helped foster a new commitment among the '60s generation to social consciousness and activism. Arlo went on to star in the 1969 Hollywood film version of "Alice's Restaurant", directed by Arthur Penn.
With songs like "Alice's Restaurant", too long for radio airplay; "Coming into Los Angeles", banned from many radio stations (but a favorite at the 1969 Woodstock Festival); and the definitive rendition of Steve Goodman's "City of New Orleans", Guthrie was no One-Hit-Wonder. An artist of international stature, he has never had a hit in the usual sense. Over the last four decades Guthrie has toured throughout North America, Europe, Asia, Africa and Australia winning a wide, popular following. In addition to his accomplishments as a musician, playing the piano, six and twelve-string guitar, harmonica and a dozen other instruments, Arlo is a natural-born storyteller, whose tales and anecdotes figure prominently in his performances.