Andy Borowitz: "Make America Not Embarrassing Again" (3/10)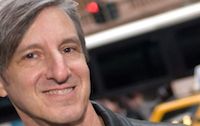 A Music Hall/Music Without Borders Co-presentation
The New York Times best-selling author and comedian who has written for The New Yorker since 1998 is taking his satirical news column on the road. Join Andy Borowitz for an evening of conversation and an audience Q&A hosted by Peter D. Kramer of the Journal News. Let's get down to addressing what in the world is going on! Borowitz has been called a "Swiftian satirist" (the Wall Street Journal), "America's satire king" (the Daily Beast), "the funniest human on Twitter" (the Times), and "one of the funniest people in America" (CBS News' "Sunday Morning"). In 2001, he created the Borowitz Report, a satirical news column that has millions of readers around the world, for which he won the first-ever National Press Club award for humor.
$150 VIP package includes prime orchestra ticket, meet n' greet and photo op.