Goodnight, Goodnight, Construction Site the Musical (4/7)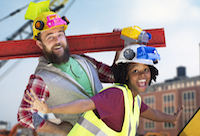 A Music Hall/Music Without Borders Co-presentation
Bedtime is approaching, and this team of construction vehicles needs to get their rest. But Crane Truck is getting cranky, Cement Mixer takes too long with bath time, and Dump Truck just isn't sleepy! Excavator and Bulldozer find that preparing for bed is a job in itself! Will they ever get some shut-eye before tomorrow's day of work? A world premiere musical based upon the best-selling book!
Based on the book by author Sherri Duskey Rinker and illustrator Tom Lichtenheld
Produce by The Bay Area Children's Theatre
Book, lyrics and music by Austin Zumbro
Directed by Nina Meehan