Dweezil Zappa World Tour 2018 "Choice Cuts" (4/20)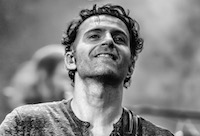 A Music Hall/Music Without Borders Co-presentation
There's no stopping Dweezil Zappa from continuing his mission to unlock the mysteries held within the superabundance of Frank Zappa's iconic music. For over a decade, the renowned guitarist has been honoring his father by touring the world with his Grammy-winning project, now named Dweezil Zappa. Dweezil's 12th annual tour is called "Choice Cuts!" and he has curated an all new show filled with some of Frank Zappa's boldest compositions or as Dweezil says, "A collection of the meatiest tracks," with which he plans to satiate the appetite of Zappa fans, old and new.
A $25 VIP Soundcheck package is available which allows entry to soundcheck and a tour poster. Select this option at checkout.