An Evening with Poco and Jim Messina (2/23)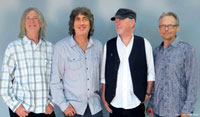 A Music Hall/Music Without Borders Co-presentation, supported by WFUV
A great co-bill featuring two soft-rock favorites. Poco are country rock pioneers who found platinum success early in their career, and four decades later Rusty Young, who wrote and sang the massive hits "Crazy Love" and "Call It Love", still leads this incredible band. Other hits include, "Heart Of The Night", Spellbound", "Keep On Tryin'" and "Good Feelin' To Know". Poco has released "All Fired Up", their first studio CD in 13 years. Early reviews include No Depression: "The band still sounds fresh, not a rehash, true to the past but not wallowing in it." and Soundpress: "a simmering set from the country rock stalwarts who are ready to stamp their mark on another decade". As one half of Loggins & Messina, co-founder Poco, member and key contributor to Buffalo Springfield, Jim Messina has left an indelible footprint on popular music. Jim produced, engineered, and composed much of the Loggins & Messina, Poco and Buffalo Springfield albums. Loggins & Messina produced many hits (Angry Eyes, Your Mama Don't Dance, Danny's Song, Vahevala, House at Pooh Corner) and sold over 20 million albums domestically.