Max Weinberg's Jukebox (1/19)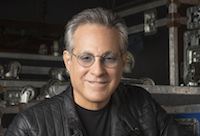 A Music Hall/Music Without Borders Co-presentation
An interactive concert experience! YOU create the set list. Fresh off the hugely successful The River Tour 2016-2017 of Bruce Springsteen and The E Street Band—where the group played 89 concerts nearly four hours long each night in 15 countries, Rock And Roll Hall Of Fame Drummer Max Weinberg invites the audience to create the set list, in real time that he and his band will play. Performing songs from the glory days of rock and roll, the audience gets to choose from a video menu of over 200 songs-- everything from the Beatles to the Stones to Bruce and The E Street Band's biggest hits—and hear the group play 'em the way they want to hear them played! That's right—the crowd gets to yell out their choices and Max plays them! This unique approach is fun and satisfying. How many times have you attended a show where you yearned to hear your favorite performer play your favorite song? With Max Weinberg's Jukebox your dream will be realized.

Meet and Greet VIP tickets include photo with Max and a signed drumhead!




$115 Gold Circle VIP Private Meet and Greet - includes a personalized signed drum head and photo op with Max. Additionally, any items purchased at the merch table will also be signed upon request. Upgrade any ticket to the show for access to the post show meet and greet.