Steve Hackett - Genesis Revisited, Solo Gems & GTR 2018 Tour De Force (2/18)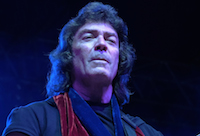 A Music Hall/Music Without Borders Co-presentation, supported by WFUV
Part of the Franzoso Contracting Rock Series
Steve Hackett was lead guitarist with Genesis as part of their classic line up with Gabriel, Collins, Banks and Rutherford, that produced acclaimed albums such as Selling England by the Pound (a favourite of John Lennon). With Steve's extraordinary versatility in both his electric guitar playing and his composing, he involves influences from many genres, including Jazz, World Music and Blues. He is equally adept in his classical albums that include renditions of pieces by composers from Bach to Satie, his own acoustic guitar compositions that have gained the admiration of many, including Yehudi Menuhin, and ambitious guitar/ orchestra albums such as A Midsummer Night's Dream, recorded with the Royal Philharmonic. Steve's live electric gigs take his fans on an extraordinary journey drawn from a rich musical heritage. Perennial Genesis favourites such as the mighty Firth Of Fifth sit alongside solo classics, while more recent solo material is also included, demonstrating that Steve is an artist still at the very top of his game. Supported by some of the best musicians on the planet, Steve's unique guitar work remains the fulcrum on which this challenging and exhilarating show is balanced.