Vic DiBitetto (2/24)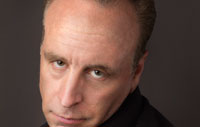 Presented by Jamison Communications
You've seen his "Bread and Milk" rant on YouTube, which got over 15 million hits. You've probably seen his "Vignettes" on YouTube, which garnered another 8 million hits. (Justin Bieber, anyone?) He had a featured role in Kevin James' hit movie "Paul Blart: Mall Cop 2."
Vic DiBitetto
was the Grand Prize winner on TV's "America's Funniest People", and starred in a Hulu original talk show. But if you've never seen him live, be prepared. Vic DiBitetto is a super high-energy comedian who's made audiences rock with laughter in clubs and casinos all over the country. He also starred in "Comedy You Can't Refuse" with the cast of the Sopranos, and in "Night of a 1,000 Guidos" in theaters. Catch his crazy, manic act live and you'll laugh from beginning to end.
*Meet Vic after the show! Purchase a $20 after show meet & greet upgrade with your show ticket purchase.